Child Safety Online: Video Games
15/03/2019
Playing video games can be a great way to have fun, relax and socialise with friends in your spare time. It's a popular pastime
not only for children, but adults as well. Some games are based 'offline', meaning you don't play against or with any other real people, however, gaming is becoming more and more geared towards playing with other real people online.
Some very popular games such as Fortnite or PlayerUnknown's Battleground (better known as PubG), are 'online only' games, where you are placed into a game with random people (as well as friends, if you invite them), to fight against one another for survival. If your child plays these types of online games they will have the ability to chat with fellow players through text chat or voice chat (if they have a headset). Since these games are also popular with adults as well at children, it means it's very hard for you to know who your child may be interacting with online and whether they are being exposed to bullying or inappropriate language or behaviour. It's always a good idea to make sure your child is aware of the dangers of interacting with strangers online and to ensure they know how to report and block other players on these games. This gives you and your child more control over who enters your house in a digital sense.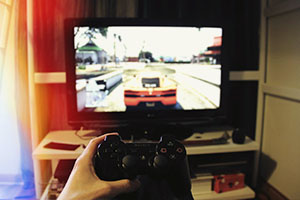 Finding out what games your child is playing and checking the age rating is advisable too. It is even wise to check why a game has been given the rating they have because it will give you a flavour of what happens in the game. Some popular games such as Grand Theft Auto 5, which is 18 rated, has an offline story mode and an online mode where you play against strangers, but both modes contains strong adult content that may be unsuitable for your child. This is just one example of why it's advisable to research games before letting your child play them. Common Sense Media has parent and child reviews and a summary of the content of games, which could help you decide if this is the right game for your child. Finding out about which parental controls can be applied to the console or game itself could also help protect your child.
Online games can be played on consoles such as the Xbox, PlayStation, Nintendo Switch, or on a computer or mobile device. Keeping an open dialogue about which games your child is playing and how they are using the game is a good way to find out how what the games involve, and can provide you with an opportunity to remind your child that they can always talk to you if something happens that upsets them or makes them feel uncomfortable. It is also worth reminding your child that they should never share personal details (such as their address or which school they go to) with anyone online, and to be careful not to share pictures or videos with anyone they don't know well.
There is a growing trend around watching other accomplished gamers play games live via streaming services such as Twitch or Mixer. It is worth being aware if your child engages with this as well since the gamers are generally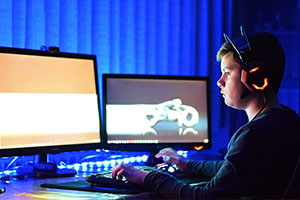 adults who play games while chatting to the viewers watching them. Although these streams are usually fairly innocent, some language or behaviour may not be suitable for your child to view, or the game they are playing may be contain inappropriate content. There are also text chats in these apps where viewers can talk to each other about what they are watching. These chats are sometimes only loosely moderated by chosen fans or friends of the person streaming, but often still contain adult language and behaviour since anyone can watch and post messages in these video streams.
There are safer ways to play online if you are concerned about your child, which include playing closed games where they can only play with known friends; this is especially common in games like Minecraft. However if your child is using modern technology and gaming, it's always worth regularly checking in with them to ensure they're happy and safe with what's happening in their gaming world. This will ensure you maintain an open dialogue and that discussing these issues remains a normal part of life.