How to use TikTok to market your business
17/06/2021
If you're new to TikTok, this relatively recent video-based social media platform has been steadily growing more popular over the last few years. As with other social media platforms, such as Instagram, Facebook, Twitter, YouTube amongst others, businesses are grasping the opportunity to use TikTok as a tool to market their products and services with great success.
What is TikTok?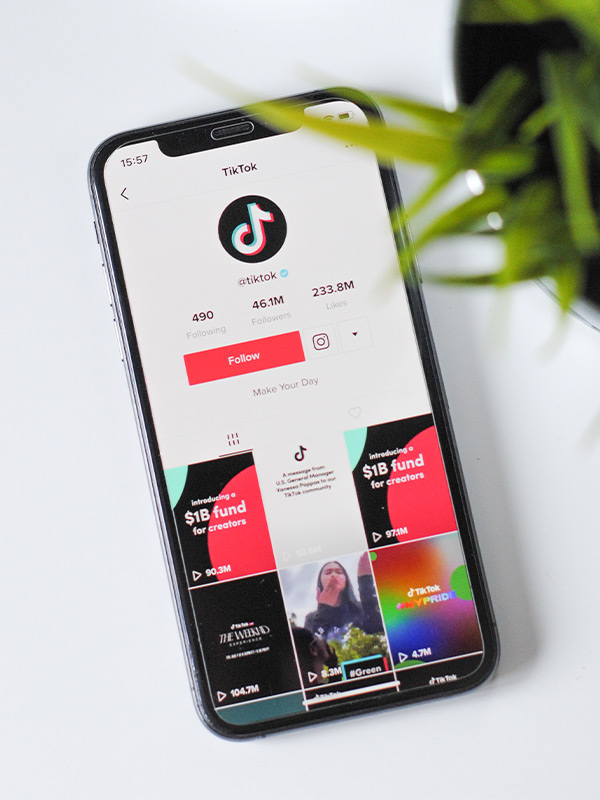 TikTok was launched in 2016 as a platform for sharing and editing videos in a simple way, all in one app. While this is used by people of all ages, it is predominantly aimed at a younger audience of teens and young adults, commonly referred to as Gen Z and Millennials. It is also one of the fastest-growing platforms with over 800 million active users across the world and is, therefore, one of the top social media services currently in use.
Many of the videos are of comedy value, from funny cat videos to scripted skits, but there is also a lot of informative, serious, and everyday-life content available too. The algorithm that powers their feed suggests videos it thinks you will like from other videos you have watched or interacted with and will tailor this to your preferences the longer you spend browsing.
The main pages of TikTok include the For You Page and the Following Page. The 'Following' Page is fairly self-explanatory, as this is where videos will appear from creators that you follow. The 'For You Page', or FYP as it is known on the app, is where your recommended videos will appear and is typically the most browsed part of TikTok. Why should you worry about having followers if the Following Page is not overly popular? The higher your following, the greater your chance of having your content displayed to other users that don't follow you currently. Plus, once you have over 1,000 followers you can also begin to broadcast live. Finally, the Discover Page displays trending hashtags and songs, so you can keep on top of what is popular that day.
Making your own content
Making your own content on TikTok is simple. Simply press the big plus button at the bottom of the screen and from here you can record video, as well as pause and edit to create cuts in the footage. You can also apply filters, subtitles, music and may add text too, to make the video more engaging and accessible.
TikTok's ability to give users powerful, but easy-to-use video tools is what sets it apart and what makes it possible for businesses to easily show off their product and services. Whether you want to post an example of how something works with a sound playing over the top, or a fully produced video – everything can be created and edited in the app – although you can also upload a pre-made video if you wish. Trying to include something informative, funny, or clever will make more of an impact and encourage users to like or comment on your post.
Whilst many big brands are already using the platform for marketing purposes, there are some that are taking it to the next level. Notable mentions go out to Innocent Drinks, ASOS and Ryanair, who have all successfully grasped the potential opportunity that TikTok presents for business.
Innocent Drinks, who make healthy beverages, take a light-hearted approach, matching their playful brand image, by using animation and being generally silly around their office. They're also very active in the comments section, interacting with their viewers often.
The online fashion retailer, ASOS, use their TikTok account not only to show off their products at fun angles or create makeup tutorials, but they also engage with users to join in with hashtag challenges such as #ASOSinthebag, where you share your clothes haul that you've ordered from them. They also participate in the latest TikTok trends, which helps to generate extra likes.
Ryanair, the well known low-cost airline, is great at using trends to keep their content relevant. Most of their videos are based on the viral sounds you can use on TikTok, which can be used almost as a meme and always prove popular.
Paid ads
There is also an option for paid advertisements on TikTok, as there is with other social media platforms. There is a variety of types of advertisements you can choose from, of which some may work better for you than others.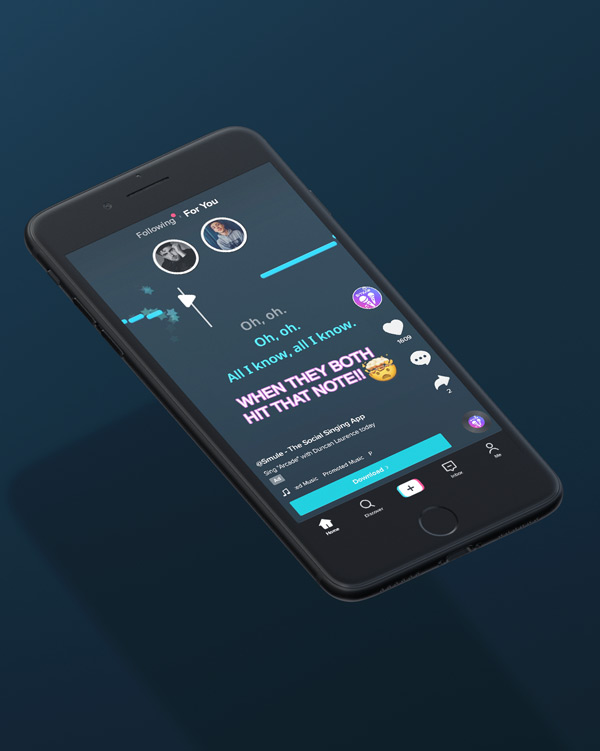 Top View adverts feature a full 60-second video with sound, which automatically plays and can be linked through to your website. These are high impact since you have to wait a few seconds before you can scroll away, and depending on how engaging you make them, could be watched the whole way through. Making an impact within the first 2 or 3 seconds is crucial for this type of ad.
Brand Takeovers use either a static image or a video up to 5 seconds, which links through to your website. This type of ad is similar to the Top View which can't be scrolled past for a couple of seconds, so again, making this stand out quickly will be key.
In-Feed Ads are adverts that appear while you're scrolling, and look like a normal TikTok video, but can be linked to take users to your website. These are more subtle than the previous options, and can be scrolled past straight away. These ads tend to work best if you try to make them look like a "normal" TikTok video, rather than a high-end advertisement.
Branded Hashtag Challenges are a great way to engage with users on the platform, encouraging them to make a video using your hashtag. These often include a more customised landing page explaining the challenge, and can also get featured on the Discover page on TikTok alongside other popular hashtags and sounds.
Branded Effects are a more creative way to show off your brand. You can create a personalised filter, effect, or sticker(s) to encourage users to create videos that feature your branding more prominently. This can work well as it shows real users using your branded content, which can give a huge boost in trust for your business.
Influencers
As with other social media platforms, businesses are using 'influencers' on TikTok also as a method of promoting their brand, products or services. From a comprehensive video showcasing your product, to a more refined product placement that might be lightly featured in the video, influencers can help your brand reach huge audiences of millions of potential customers depending on the size of their following. This can of course come with a hefty price tag, but the reward might be worth the investment in the right context. There are also plenty of smaller influencers or popular users who may be happy to promote your brand for a smaller cost, or for a free product or service.
Researching your influencer will be the biggest task, ensuring that their target audience and their core messages are in-line with yours. Looking into the demographic of their following and how they create content will give you a good idea of whether they'll work well for your brand or not.