Colours of the year 2022
07/01/2022
Every year, the leading experts in colour standards and interior design release their picks for Colour of the Year. As usual, we've compiled their picks into a short list to help keep you abreast of the upcoming trends. This year's range includes optimistic and creative tones, as well as some calming and neutral shades.
PANTONE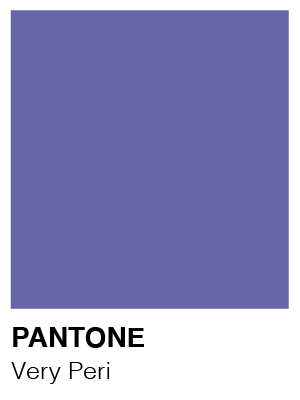 Pantone have announced 'Very Peri' as their Colour of the Year for 2022. The announcement is even more special this year, as it's the first time they have created a colour specifically for this purpose, instead of selecting an existing one. Pantone describe their periwinkle shade of blue as encouraging for personal inventiveness and creativity. In their own words:
"Creating a new colour for the first time in the history of our PANTONE Color of the Year educational colour program reflects the global innovation and transformation taking place. As society continues to recognise colour as a critical form of communication, and a way to express and affect ideas and emotions and engage and connect, the complexity of this new red violet infused blue hue highlights the expansive possibilities that lay before us".
The goal behind this annual campaign is to influence the wide world of design to incorporate their chosen colour. From fashion to interior design, to website and packaging design, Pantone hope their new colour, 'Very Peri' will be the 'it' colour for 2022.
Dulux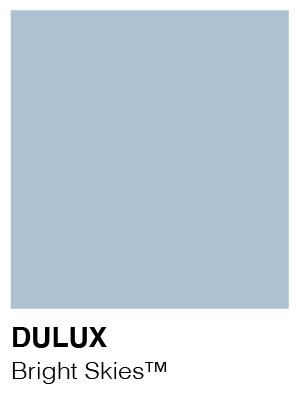 The colour experts at Dulux have named Bright Skies™ as their shade for 2022. Dulux pulled together a team of international design experts to provide insight on what single colour could reflect the current mood and atmosphere of today. During these discussions Dulux found key themes to base their decision on including: the increasing role of the home, the essential part nature plays in our lives, the need for hope, bright futures and a breath of fresh air. Combining all these themes led Dulux to choose a light, airy, hopeful shade of blue as their 2022 colour of the year.
Farrow & Ball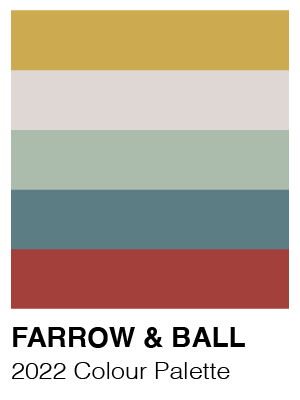 Farrow & Ball have revealed an eclectic colour palette for 2022, in place of a single colour. Babouche, School House White, Breakfast Room Green, Stone Blue, and Incarnadine are the names of their selected shades. Joa Studholme, Farrow & Ball's colour curator, has described the palette as…
"A mix of the pure and the humble that evokes the warmth and harmony of a more innocent age while celebrating life today".
Behr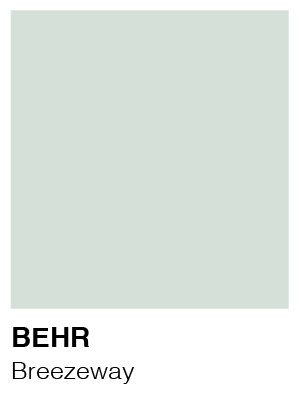 Behr's colour of the year is Breezeway, which they describe as a silvery shade of green that has been inspired by the naturally beautiful sea glass found on beaches. The colour aims to encourage feelings of optimism and hopefulness, helping us to start the year in uplifted spirits. The calming shade also hopes to provide a sense of peace and tranquillity, feelings that have been rather absent from our lives for the past 2 years.
Valspar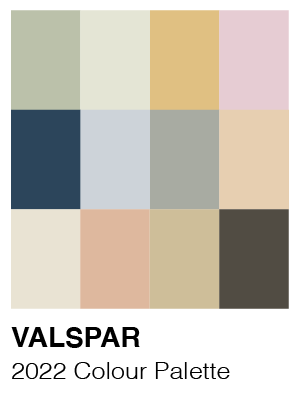 Instead of choosing one colour, Valspar have selected 12 to be their 2022 colour palette. They have said this range of colours have been inspired by nature and when used in the home will bring a calming and comfortable presence. The colours, however, are not all ones we typically associate with nature, therefore keeping this a trendy and interesting palette. Sue Kim, Valspar's marketing manager, says using the palette will…
"Create a space to relax and unwind with warm, comforting charm".
Benjamin Moore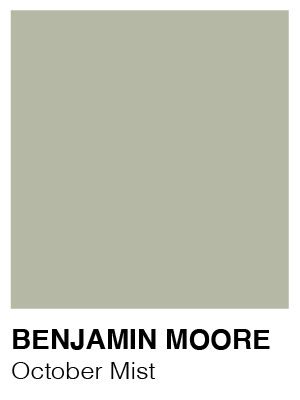 Like Valspar and Farrow & Ball, Benjamin Moore don't stop at a single colour for 2022, and instead release a 2022 colour trends palette. However, they have selected the colour October Mist from this palette as the one they feel will have the most impact in 2022. Andrea Magno, Benjamin Moore's director of colour marketing and development states,
"October Mist 1495 and the corresponding colour trends 2022 palette reflects an effortless harmony of colours while inspiring unique combinations for any paint project".