Google Analytics – Part 9: Using Goals
11/01/2017
Articles in this series:
This month we look at how you can track different types of conversions on your website using 'Goals' in Google Analytics. If you read part 3 of this series, you'll already be familiar with the two types of conversions we spoke about – macro and micro conversions – and how tracking both types can be useful to your overall marketing strategy.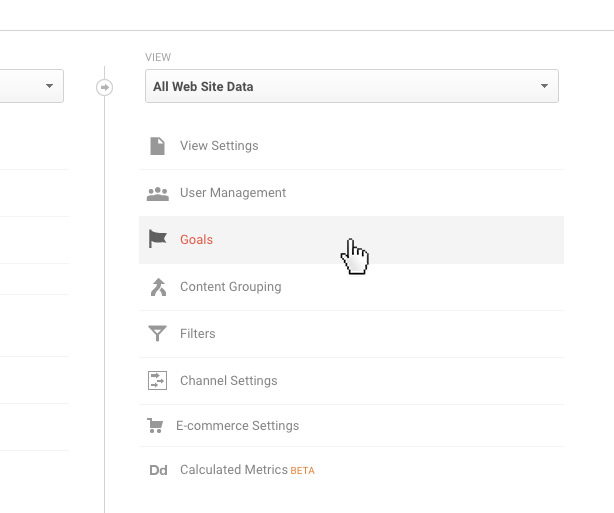 Fundamentally, goals allow you to measure your analytics data against the key performance indicators (KPI) you established in your measurement plan (see 'Part 4: Creating A Measurement Plan') to check how well your website is performing. When a goal is created, Google Analytics will start to report numbers of conversions and your conversion rate. Furthermore, data can be segmented, as we will see, which will allow you to see exactly which marketing channels are working, and which are providing the least value.
Goals are created at the 'view' level of your account (for more information on your account structure, see 'Part 7: Understanding Your Account Structure'), which means that goals can be created to interpret data within a specific view that you may have already set up.
Types of Goals
There are four types of goals that can be setup:
Destination

A destination goal on your website is basically a page you wish users to get to. This is often a page that users see when they complete an activity – a newsletter signup/order confirmation page for example. When setting up destination goals, you only need to enter the relevant 'URI', not the full URL; in other words, something like '/order-success.html' instead of 'http://www.my-website.co.uk/order-success.html'.

Event

An event goal is something the user triggers by interacting with your website, for example, by downloading something, or clicking on a specific link.

Pages/Screens per visit

A page goal is triggered when a user views a certain number of pages on your website that is above/below the threshold you set for the goal.

Duration

Similarly, a duration goal is triggered when a user exceeds or falls under the threshold you set for time on the site.
When setting up goals, Google Analytics provides a useful verification tool to test your goals before you set them up. This tool shows what would be reported if you applied your new goal to the data you gathered over the past 7 days. This is a great way to test if you've set something up correctly.
Goals can also be configured to be with an optional value. If your website has an online shop facility, assigning a value to your goals can help to provide snapshots of really useful metrics such as return on investment (ROI) and average visit value, from within your Google Analytics account.
Another optional configuration you can use to your advantage when setting up destination goals is the funnel. Funnels allow you to specify the exact process leading up to a conversion that you want to track. For example, during a checkout process, users may be taken through a series of pages such as Basket Page > Customer Information Page > Delivery Details Page > Payment Page. By specifying the individual pages that should lead to your conversion, you will allow Google Analytics to track where users start their journey towards completing your goal and where they exit; even though this may not necessarily be through conversion at the end. You may, for example, find that many users are dropping out of their journey en route to conversion on the Customer Information Page, which might suggest you need to re-design that page or analyse the reasons that could deter users from continuing their journey.
If you're interested in discussing Google Analytics further or how we can help improve the performance of your website, please get in touch with a member of the team today.